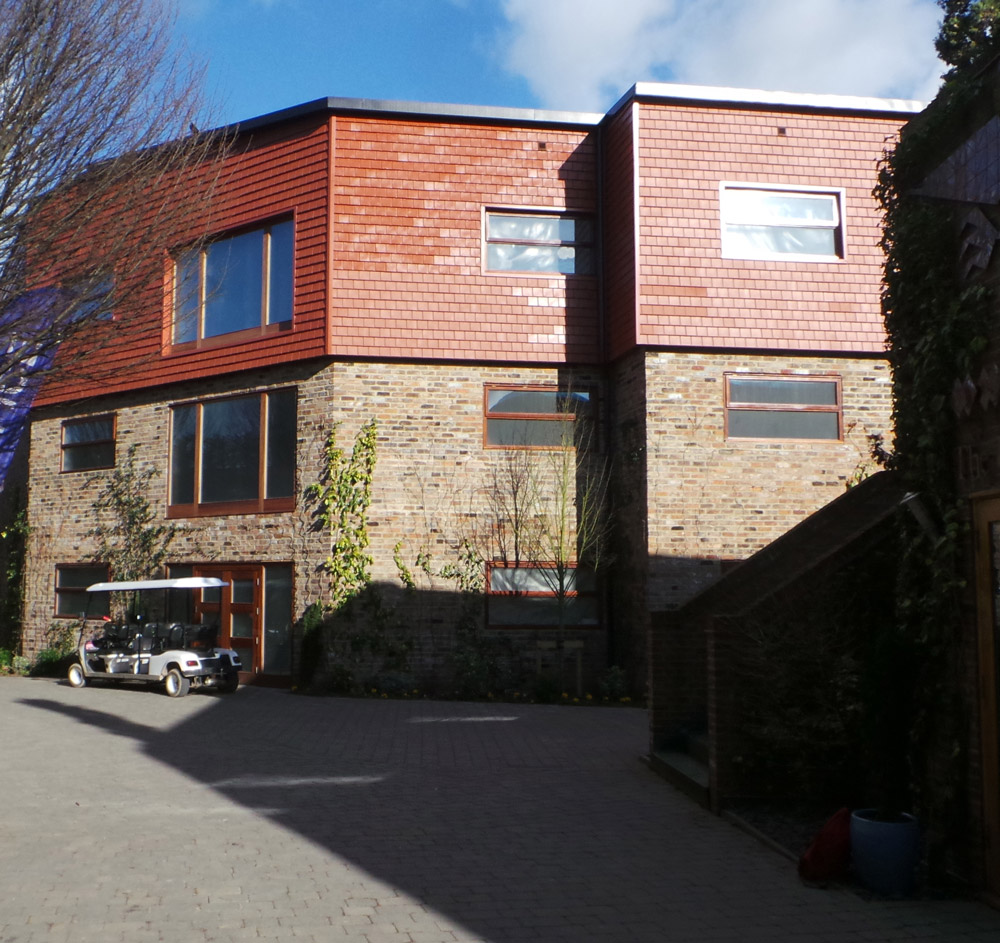 Britmet Lightweight Roofing are proud to be the largest UK manufacturer of lightweight roofing materials. We manufacture all of our products at our 70,000sqft factory based in the West Midlands, and also operate our sales and admin at our 5,000sqm head office in Oxfordshire. Furthermore, with a central location like the West Midlands, Britmet work with a number of distribution networks and boasts national coverage, including smaller UK islands; such as the Isle of Skye.
Our designs offer you the aesthetics and characteristics of traditional British concrete and slate profiles in a lightweight, low-pitch, anti-vandal, composition. Our range of granulated metal roofing tile profiles are manufactured using the highest grade Aluzinc steel, coated with a stone granule finish and a clear, acrylic overglaze to match any traditional concrete, clay, or slate roofing tiles on your existing roof or within the surrounding area; therefore, solving any prudential planning obstacles.
When designing our composite slate, Liteslate, real welsh slate was used to perfect the aesthetics and performance qualities. However, unlike natural slate, our synthetic slate roofing tile won't crack, break, chip, or delaminate due to its ground-breaking design and cutting-edge manufacturing process. We have 7 production lines manufacturing Liteslate ensuring that 14 slates are made every 45 seconds to supply our customer demand. Furthermore, LiteSlate is designed with the environment in mind. Over 90% of the Polymers that LiteSlate is made from are recycled. In 2021, Britmet will recycle over three million kilograms of polypropylene during the manufacturing process.

A Brief History of Traditional British Profiles
Traditional Clay Roofing:
Clay roof tiles have been used on roofs for a long time, with archaeologists locating evidence of clay roof tiles in China dating back to 10,000BC. When the Romans came to Britain in the first century AD, they brought the tradition of using clay roof tiles with them and used them to cover their villas, temples and bathhouses. However, clay roof tiles weren't popular until after the Great Fire of Southwark in 1212. In the events after the fire, King John stated that buildings in London should be built with clay roof tiles, rather than thatched roofing, as they were more fire resistant. They are still used today, often manufactured by machines to meet demand.

Clay tiles often cause restrictions on roofing projects as they're a heavy tile, weighing between 40-50kg per square metre and - depending on the manufacturer - can only reach pitches as low as 30°. Clay tiles also require maintenance during their lifespan as they can crack and break due to falling debris or weight from foot traffic.
Traditional Concrete Roofing:
Concrete roof tiles have seen a surge in popularity over the past 50 years. You can expect the lifespan of a concrete tile to be anywhere in the region of 50-60 years, however, they are much heavier than clay tiles, weighing between 40-60kg. Concrete is one of the heaviest materials meaning installation isn't easy. The roof structure needs to be reinforced to withhold the heavy weight of the concrete.
Furthermore, traditional concrete roofing tiles are known to easily break. If a concrete roof tile is dropped, stood on, or falls, it is to be expected that the tile will smash beyond repair. In addition, traditional concrete tiles are known for their poor weather resistance as they can quickly become stained and cracked faster than other traditional roofing methods. This can also lead to the growth of moss and lichen that has been known to cause long-term damage to your roof if left unchecked.
Traditional Slate Roofing:
For centuries it was only for the wealthiest buildings that could use traditional slate, such as, Conwy Castle built by King Edward I between 1283-1289. At the time, slate was dug out of the ground by men with only hand tools and a horse and wagon to transport it. The first recorded use of traditional slate roof on a private home believed to be in North Wales in 1300AD.
Although traditional Slate has a range of benefits, it's not suited for every roof. On average, traditional slate weighs around 38kg meaning some homes may have to be reinforced before the slate can be placed, resulting in a higher overall project cost. Furthermore, the average contractor is often not qualified to fit a slate roof as it required specialist installation.