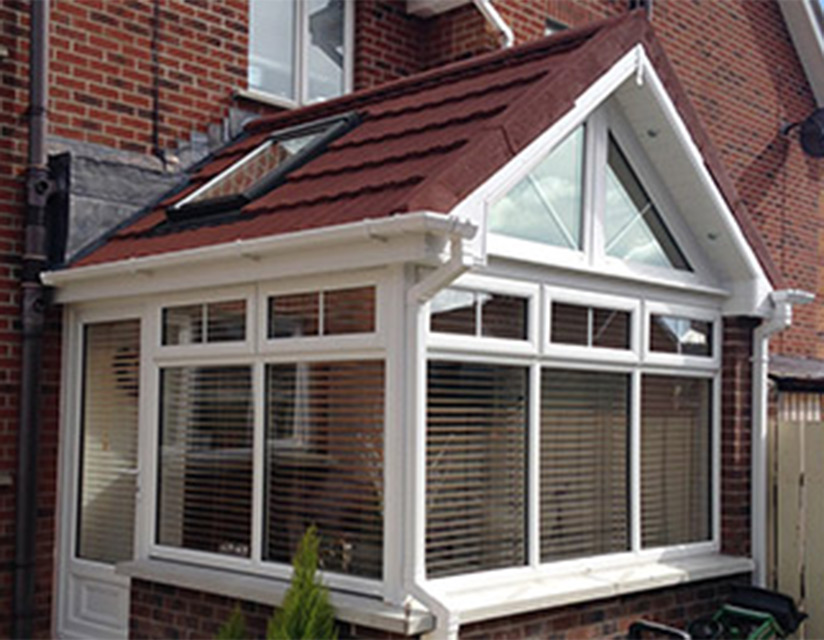 Tiled Conservatory Roof
Britmet Lightweight Roofing is the market leading, British manufacturer and supplier of lightweight roofing systems and panels for solid conservatory roofs throughout the UK and Ireland. Tiled conservatory rooves tiles are an important consideration when selecting your build, with weather protection and durability a primary feature.
This is why Britmet are the best when it comes to lightweight roofing systems for tiled conservatory roofs:
British Manufacturer and British Profiles
Being a British manufacturer, we ensure that our range of lightweight roof tiles are all designed to suit the popular traditional roofing materials commonly used throughout Great Britain. As a result, homeowners across the country who are suffering with baking hot conditions in the summer and freezing cold environments in the winter can now have a usable room which they can enjoy all year round on the inside, whilst matching in to their existing home and that of the surrounding area.
When you make the decision to convert your conservatory roof into an insulated warm roof, the outside appearance should be just as an important decision as the interior. Don't settle for less and let us here at Britmet help you choose the best profile for you. Whether you have slates or flat concrete tiles to small plain tiles, or profiled concrete tiles such as double romans, we have the profiles to match and a range of colours to choose from. We are confident once the product is installed you wouldn't notice the difference. A tiled conservatory roof is a great way to add style and strength!
To help you choose the best lightweight roof tiles and panels for your conservatory use our comparison table below.
Lightweight
Weight is a crucial factor to consider when converting your conservatory into a tiled roof. They are typically not designed to take the weight of traditional roof tiles and therefor require specialist lightweight panels.
Our lightweight roof tiles weigh as little as 7kgm2 making them lighter than glass and even some polycarbonate roof sheets.
Low Pitch
Most systems currently on the market are restricted to 15 degrees, but at Britmet we have tiled effect panels and sheets that can go as low as 5 degrees. This is perfect for any low pitch conservatory roofs, lean to roofs and any project where there are height restrictions such as windows or external pipes. See below we have listed our products and the pitch they can achieve to help you make the right choice for your conservatory roof project.
40 year BBA backed guarantee and maintenance free
We know that time is more important now than ever before, that's why we have developed and perfected our lightweight and low pitch roof systems to be virtually maintenance free over its entire life expectancy of 60 years, with a hugely impressive 40 year weather proof guarantee. This means you can spend your time on things that matter to you the most and not having to worry about your new conservatory roof for years to come.
The benefits of using Britmet Lightweight Roofing for your conservatory roof tiles are:
40 year BBA backed guarantee
British profiles to match your home and the surrounding area – beautiful aesthetics
Lightweight – from 7kgm2 – reduces strain on the structure
Low pitch – as low as 5 degrees
Maintenance free
Fast installation – 10x faster than traditional material
Easily compatible with Velux windows and similar
Secure against vandalism and foot traffic
Manufacturing specialist lightweight roofing systems for over 40 years
Building regs approval
DIY friendly if you wish to undertake the project yourself
Expert technical advice always on hand