Introducing you to the World of Tiled Conservatory Roofs - Britmet Lightweight Roofing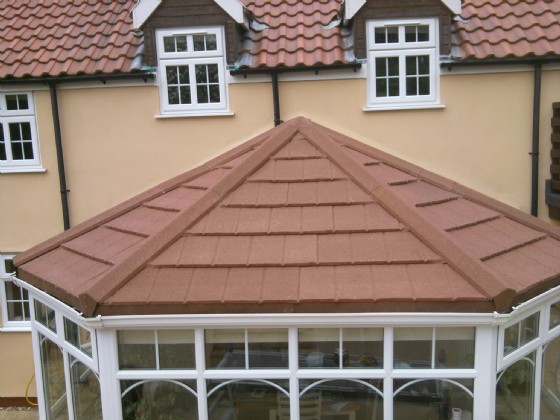 Conservatories are a fantastic way to flourish in the sunshine centre of your garden, however glass roofs can often bring several unanticipated problems with them. From issues with keeping glass clean to painfully increased heating bills – it may be time to consider replacing the glass with Britmet's lightweight roofing tiles that offer the perfect solution. Here are a few points to consider as to why you will want to update your conservatory into a luxury that you can enjoy all year round.
Reducing your Household Bills
A polycarbonate – or glass – roof is the number one factor causing the heat to escape from your conservatory due to hot air rising and permitting the heat to escape. With increasing convection currents and ineffective technology to keep hold of the heat there is no wonder why the heating bills are incredibly high, especially when the freezing winter months often drive to you purchasing electric heaters too. Britmet Lightweight Roofing tiles and synthetic slates can be installed with insulation underneath to protect you even further from heat loss.
Furthermore, whilst keeping you warm in the winter, a solid roof conservatory can be the perfect summertime space with shading which prevents greenhouse gases that is often common with traditional polycarbonate conservatories.
Environmental Benefits to Britmet Lightweight Roofing
A popular consensus with consumers building a conservatory is to become closer to nature. That's why here at Britmet we have full delight in producing environmentally products as every tile that we make is 100% recyclable and reduce CO2 emissions during the transportation process as they are extremely lightweight.
All Year-Round Luxury
Finally, having a solid roof conservatory will allow you to have full access to the space at all times of the year and take full advantage of the changing seasons. So, whether you're watching over your snow quilted garden or the beaming sunshine you will always have a good view without it affecting your household bills or the environment.
If you have any possible additions that you wish to add to our Blog, please contact Yasmine via Yasmine.oconnorpeck@britmet.co.uk. Thank you in advance and we look forward to updating you with our upcoming editorials and we hope you enjoy the content.
Date Posted: 16th January 2020
SOCIALISE WITH US
SEARCH ARTICLES
Blog by Category