Are you Having Problems with a Flat Roof? - Britmet Lightweight Roofing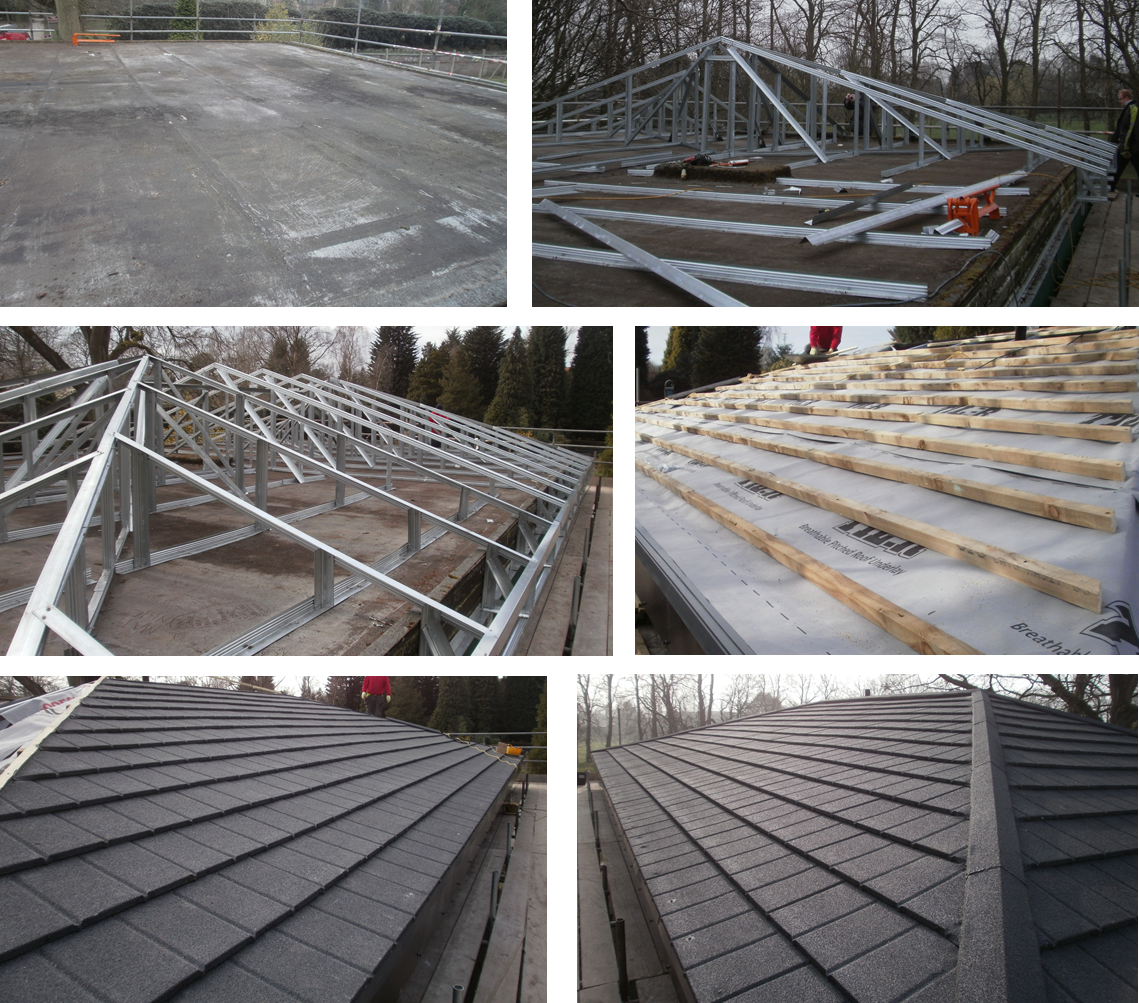 Britmet are experts in the production and supply of total roofing systems; including our state of the art solution, Britframe. This bespoke lightweight steel frame roofing solution is designed primarily to create a roof pitch and solve any issues that are caused by problematic flat roofs.
Problems associated with flat roofing
Flat roofs are notoriously problematic, the main issue being leaks. Despite their misleading name, flat roofs are not actually completely flat – they are built with a slight slope to allow rain water to drain off.
Flat roofs require regular, costly maintenance and their lifespan is typically only around 20-30 years, this is much less than a well-constructed tiled roof. If not properly maintained, flat roofs can become blocked quickly – a build-up of leaves and debris is a common problem.
If you have a flat roof and suffer with the associated problems, Britframe could be the perfect solution.
Britframe Solutions
Britframe offers a permanent solution to flat roof and can be used to construct a variety of pitched or curved roof structures that incorporate simple, gable end designs to more complicated ridged requirements.
We tailor our roofing systems around the structural and design requirements of the client's existing roof. The lightweight, structural metal frame system is able to create a variety of pitched and curved roof designs for both modern and traditional over-cladding systems.
Benefits of Britframe
Not only can Britframe provide a low cost, aesthetically pleasing solution, but there are a range of other benefits;·
Protection of the existing flat roof
Elimination of maintenance costs associated with flat roofs
Improves thermal performance
Extended building life
Improved security
Enhanced appearance
Britframe Products
We offer a comprehensive range of products that can offer permanent solutions to the most technically challenging and troublesome roofs, view our range of Britframe roofing solutions.
SOCIALISE WITH US
SEARCH ARTICLES
Blog by Category