Our 2019 Rewind - Britmet Lightweight Roofing
2019 has been Britmet Lightweight Roofing's most successful year ever, with 5000 orders taken, 6000 Pallets & Parcels dispatched and over 500,000 square meters of roofing manufactured in our West Midlands factory! Our start to the decade has been even more phenomenal as, so far, January 2020 has broken all records with over 70,000 square meters sold! Going in to the new year with such a great start, here are a few important and exciting events we want to remind you of from 2019..
January and February:

Britmet Tileform Ltd rebranded to Britmet Lightweight Roofing in preparation for the rapid growth expected for 2019 and beyond. A combined investment of over 3 million pounds into a brand new 5,000 ft2 premises for our Head Office and a new 26,000ft2 warehouse capable of stock holding in excess of half a million tiles.
March:
During March we celebrated 'Women in Construction Week' with our head office and factory staff. Women in Construction Week is an industrial opportunity dedicated to celebrating women in the construction industry. Also, our National Specification Sales Manager, Darren Forbes, and Business Development Manager, Tim Jeacock attended the CIH Housing Show in Brighton and our Business Development Managers, Daniel Grant and Chris King were showcasing all things Britmet at the RCI Show 2019! Finally, we did something funny for money with a sweepstake, dressing up and bake sales raising £207.51 in aid of Comic Relief!
April:
We were thrilled to announce that we had officially moved into our brand-new head office at Unit 17, Kingfisher House, Overthorpe Road, Banbury OX16 4SX.
May:
We had a successful debut at the FIT Show 2019 with the launch of our two new products, LiteSlate and Shingle! The exhibition was such a hit that we pre-booked in advance for the 2020 show – we can't wait! We also managed to get a sneaky peak inside the Manor Park Homes Factory, showcasing our Ultratile profile on all Manor Park Homes, including the new Ascot that was unveiled at the World of Park and Leisure Home Show!
June:
We exhibited at the World of Park and Leisure Home Show showcasing our tiles as well as our BritPaint products! We also celebrated #BringYourDogToWorkDay wityh our Office Dog, Yarra.
July:
At the start of the month our Sales and Marketing Director, Chris Powell, went to the British Touring Car Championships with Lune Valley Pods and at the end of the month he attended the British Open at the Royal Portrush in Ireland with one of our long-standing customers, Cosy Roof!
August:
We began development into our new 27,000 ft2 warehouse - capable of stocking a massive half a million tiles - by proudly installing our own Tactray 90 system; a structural liner that helps designers and specifiers to promote warm roof construction – proven to be the most cost-effective way of insulating any building.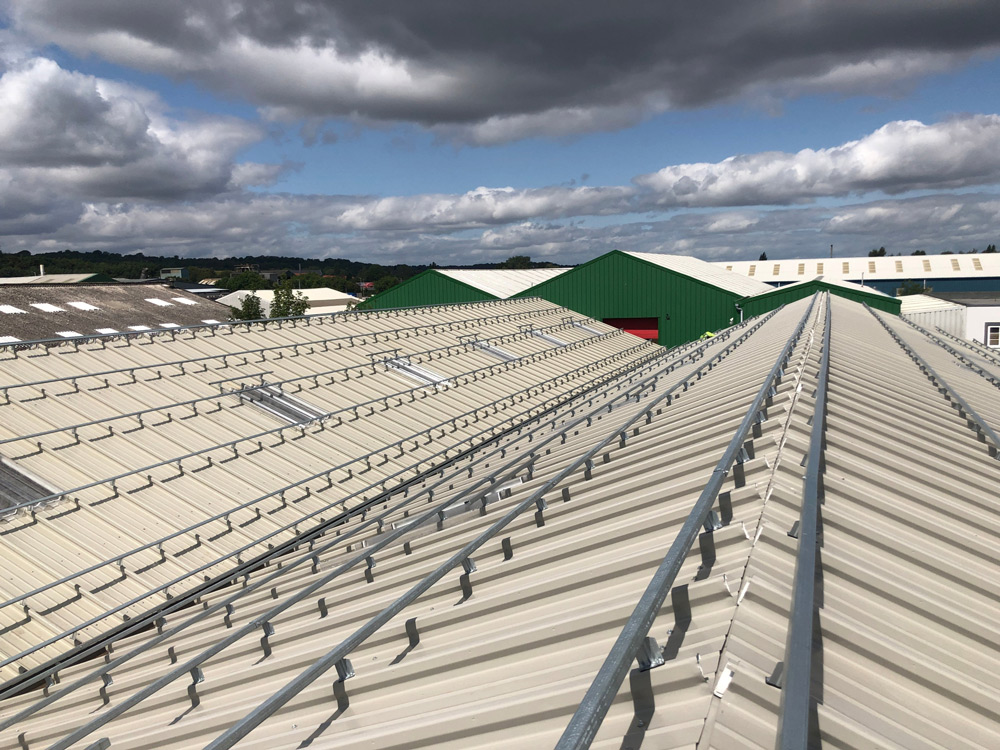 September:
The Britmet Team participated in the Ella's Fund Charity Golf Day Event helping to raise a massive £9600 and meet a few famous faces including Sky Sports' presenter Alan McInally! We also took part in the MacMillan Coffee Morning, raising money for a brilliant cause!
October:
Our Shingle product took a flight over to Ireland and landed at Belfast Airport with Cosy Roof and Britmet Lightweight Roofing was the host sponsor of the GGP Magazine's Conservatory and Orangery Awards in Manchester, hosted by BBC's Louise Minchin!
November:
Britmet's Sales and Marketing Director, Chris Powell, and National Account Manager, Mark Hawkes, went on tour to Montpellier, France, to attend Parc Des Expostions; while staff at the Britmet Offices got into the Children in Need spirit with more charity fundraising! Our National Sales Manager, Darren Forbes, did a presentation to the NFRC, 140 new clients now know what we do!
December:
Our 12 Days of Britmet Campaign got into full swing with loads of entries flying into our inboxes! Congratulations again to our winner GRK Ltd. One of our Company Director's Rachel Attley, dropped off a whole car full of the offices' Operation Christmas Child Shoeboxes, bringing Christmas to children all over the World! Finally, we got our fab-yule-ous knits on in aid of Save the Children's Christmas Jumper Day!
Our team's have had rapid growth in all departments with new Business Development Support, Telesales Executives, Logistics and Finance Administrators and more Factory Staff too - check out our Meet the Team page for more. We wish you all a Happy New Year and a Happy New Decade and we look forward to what 2020 will bring for Britmet.
Date Posted: 9th January 2020
SOCIALISE WITH US
SEARCH ARTICLES
Blog by Category